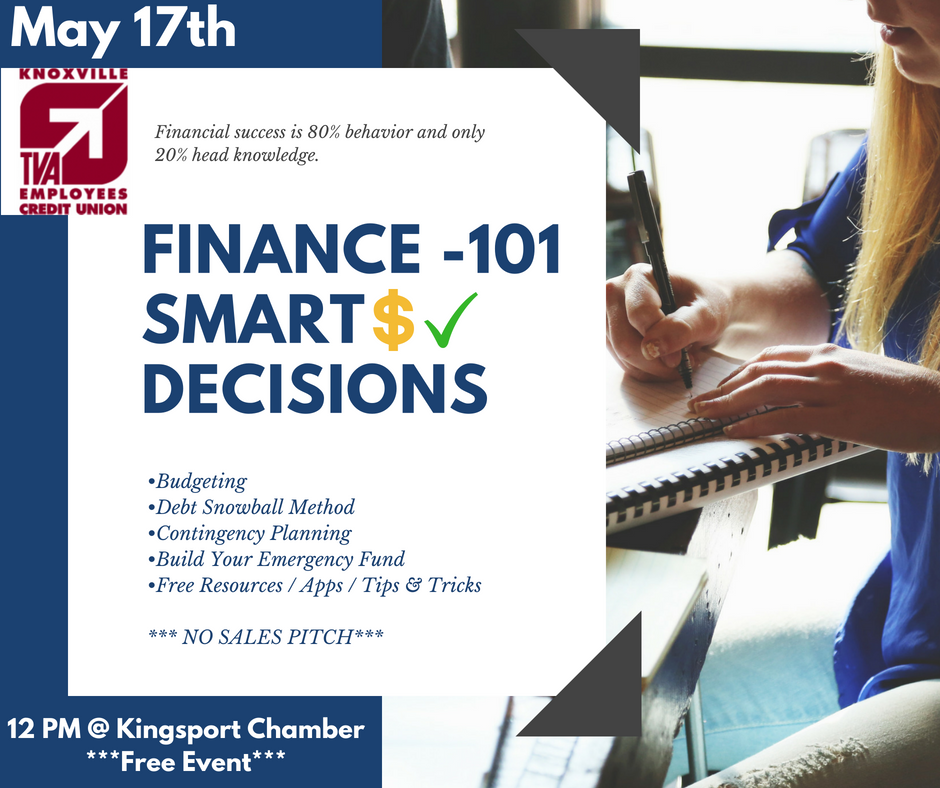 Finance 101 — Smart Decisions | Knoxville TVA Credit Union
May 17th 12 pm
Kingsport Chamber
Financial success is 80% behavior and only 20% head knowledge.
Did you know...
64% of American's can't cover a $1,000 dollar emergency
76% of people live paycheck to paycheck
This seminar will give small business owners Key Financial Principles — take control of personal finances so you can focus on building your business including:
• Budgeting
•Debt Snowball Method
•Contingency Planning
•Building Your Emergency Fund
•Free Resources / Apps / Tips & Tricks
*** NO SALES PITCH***
Q & A session to follow. Bring questions!
Free seminar. Light refreshments will be provided to the attendees.
Speaker(s): Hunter Strayhorn
Co-Sponsor(s): Knoxville TVA Employees Credit Union, The Kingsport Office of Small Business Development & Entrepreneurship (KOSBE) & The Kingsport Chamber
The cooperative agreement between KOSBE and East Tennessee State University is partially funded by the U.S. Small Business Administration (SBA). SBA's funding is not an endorsement of any products, opinions or services. SBA funded programs are extended to the public on a non-discriminatory basis. Additional funding is provided by the Tennessee Board of Regents and the state of Tennessee.
Reasonable accommodations for persons with disabilities will be made if requested at least two weeks in advance. Please contact Aditi Bhave — 423.392.8825; abhave@tsbdc.org; 400 Clinchfield Street, Suite 100, Kingsport, Tennessee 37660.