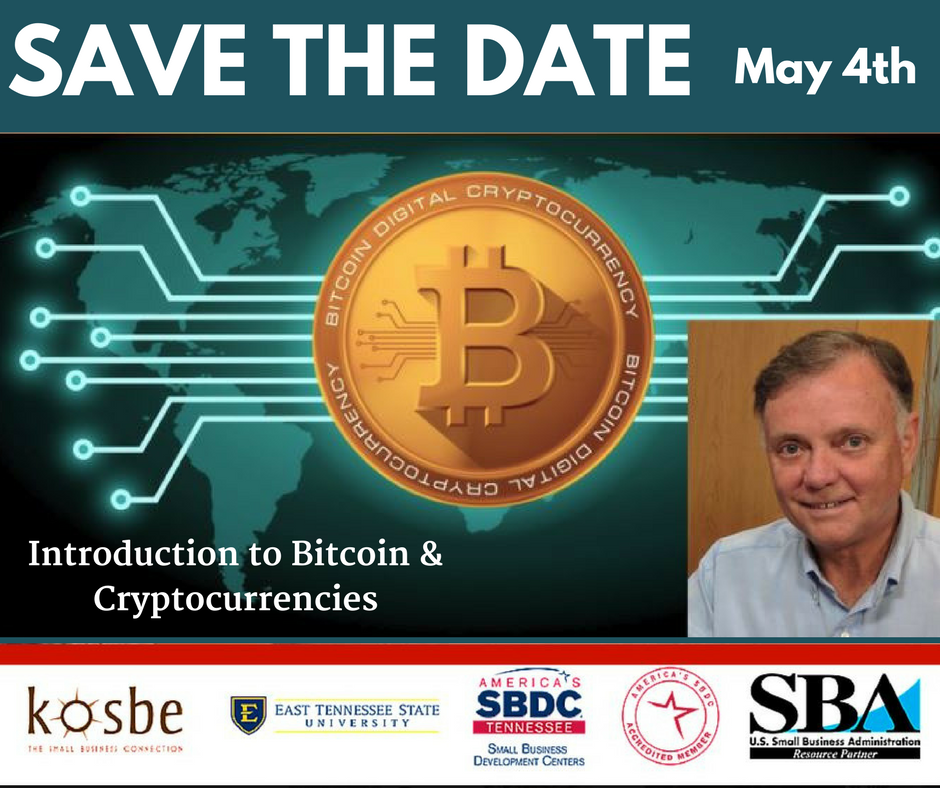 Intro to Bitcoin & Cryptocurrencies | Presented by John Cannon
May 4th 11:30 am
Kingsport Chamber
-It's a bubble
-It's a fraud
-It's a Ponzi scheme
-I wouldn't touch it with a 10 foot pole
We invite all proponents and opponents of the Bitcoin Technology to join us for an open and insightful discussion about the pros and cons, and to understand what the future holds for Bitcoin. This seminar is designed to educate business owners and others about Bitcoin Technology, and to prepare them for potential Bitcoin transactions. Who should attend? Anyone who is curious and would like to know more about Bitcoin and Cryptocurrencies. This is not a sales pitch. Come and learn, network with others, and get answers to your questions about the Bitcoin.
The seminar will highlight the following topics:
What is Bitcoin and how to use it?
Is Bitcoin an investment?
What is mining?
Are there business opportunities?
What does the future hold for Bitcoin?
This is a free seminar. Light refreshments will be provided to the attendees.
Speaker(s): Mr. John Cannon; Author of BTC- 101 An Introduction to Bitcoin
Co-Sponsor(s): The Kingsport Office of Small Business Development & Entrepreneurship (KOSBE) and The Kingsport Chamber
The cooperative agreement between KOSBE and East Tennessee State University is partially funded by the U.S. Small Business Administration (SBA). SBA's funding is not an endorsement of any products, opinions or services. SBA funded programs are extended to the public on a non-discriminatory basis. Additional funding is provided by the Tennessee Board of Regents and the state of Tennessee.
Reasonable accommodations for persons with disabilities will be made if requested at least two weeks in advance. Please contact Aditi Bhave — 423.392.8825; abhave@tsbdc.org; 400 Clinchfield Street, Suite 100, Kingsport, Tennessee 37660.