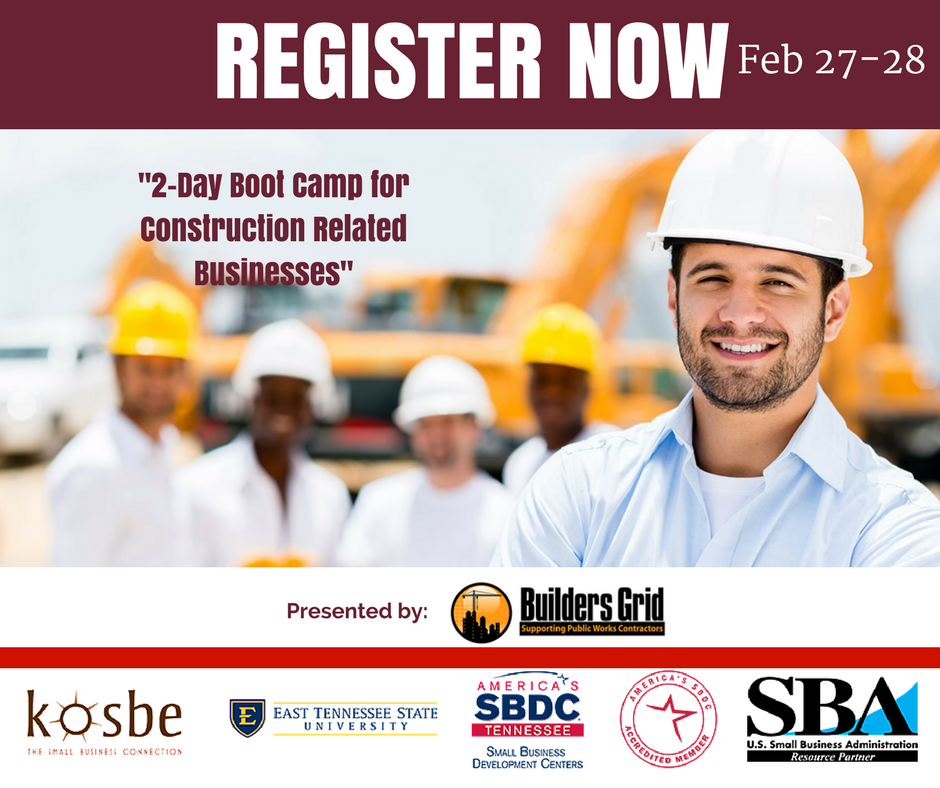 Boot Camp for Construction Related Businesses
February 27–28
Kingsport Chamber
Are you tired of struggling?
Have you been working your business with limited results?
Stop waiting. Start building!
This two-day construction boot camp is for construction related businesses to brush up on technical skills, like estimating and bidding on jobs. In addition, implement proven systems to take charge of your field and project management operations and improve crew productivity. Learn how to develop accountable and responsible construction project team leaders, pro-actively communicate with field supervisors and foremen, and track field performance to achieve results. Learn effective systems for all phases of your projects from job start-up through close-out , scheduling, budgeting, scorecard tracking, contract management, change orders, documentation, notices, submittals, crew meetings, turn-over from estimating to field, paperwork, project milestones, quality control, and completion. Learn to maximize crew efficiency, organize job sites, reduce downtime, and produce more in less time to finish projects on-time and under budget. Presented in a fast-paced interactive format.
DAY ONE ... 12:00 PM to 8 PM
Attendees should eat before they arrive or bring a brown bag lunch. An afternoon snack break and a light dinner will be provided.
Business Evaluation Basics
Sales & Marketing
Estimating
Project Planning
Project Management
Accounting & Score Keeping
DAY TWO ... 12:00 PM to 4:00 PM
A light lunch will be provided, and afternoon snack break.
Resource Management
Leadership & Business Management
Brand & Perception
---
Speaker(s):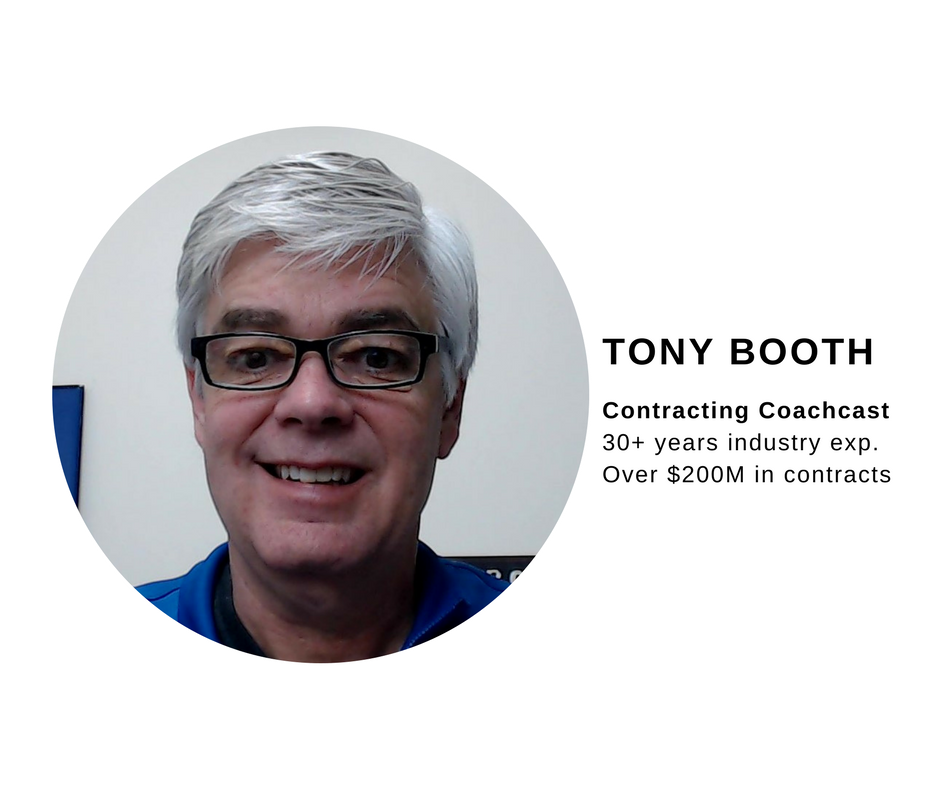 Tony Booth turns ordinary construction companies into Elite contracting organizations. As host of the daily podcast, The Contracting Coachcast, Tony provides contractors with tips, ideasandknowledge that help contractors elevate their game.
In his 30-year constructioncareerTony has owned and operated small business construction firms, worked for some of the largest contractors in the world and assisted small contractorsgrowtheir firms into multi-million dollar operations. His unique approach to client relations has helped him complete over $200 million in contracts for less than 10 repeat clients.
In recent years, Tony has embarked on an entrepreneurial journey with a vision to assist small business contractors on a large scale and help turn ordinary construction firms into successful and prosperous businesses. This journey started with working one on one with individual firms to improve efficiencies in operations and business development. In 2014, Tony launched ContractingCoach.com, an online community and daily podcast for construction contractors.
---
Co-Sponsor(s): Kingsport Chamber; Kingsport Office of Small Business Development & Entrepreneurship (KOSBE); Tennessee Small Business Development Center at ETSU; LiftTN — Tennessee Dept. of Economic & Community Development
The cooperative agreement between KOSBE and East Tennessee State University is partially funded by the U.S. Small Business Administration (SBA). SBA's funding is not an endorsement of any products, opinions or services. SBA funded programs are extended to the public on a non-discriminatory basis. Additional funding is provided by the Tennessee Board of Regents and the state of Tennessee. Reasonable accommodations for persons with disabilities will be made if requested at least two weeks in advance. Please contact Aditi Bhave — 423.392.8811; abhave@tsbdc.org; 400 Clinchfield Street, Suite 100, Kingsport, Tennessee 37660.