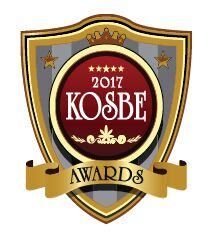 KOSBE Announces Winners, 2017 KOSBE Awards
December 21, 2017
Kingsport, TN—The Kingsport Office of Small Business Development & Entrepreneurship (KOSBE) is pleased to announce the recipients of the 2017 KOSBE Awards:
The award winners were announced at an awards ceremony at Meadowview Marriott in Kingsport on December 14th. Several contenders and winners also received bonuses including print and radio advertising, marketing, co-working space, memberships, financial analysis, legal aid, training, and expert coaching.
The KOSBE Awards promote economic impact by recognizing small businesses that are leading by example and making an extraordinary contribution to the communities they do business in. The winners exemplify leadership and excellence in overcoming adversity, and a passion for helping others succeed. Award winners serve as inspirational leaders to other local small businesses, and they model best practices that will progress the region as a whole.
KOSBE Awards is sponsored by: Eastman, Phil's Dream Pit, Cumberland Marketing, Millennium Auto Collision Repairs, Eastman Credit Union, Prendergast Construction, Drive18, First Tennessee Bank, Knoxville TVA Credit Union, Pathway Lending, GAAM Wealth Advisors, NETWORKS, SunTrust, Triten Insurance, Food City, East Tennessee Eyecare, Honda of Kingsport, Fanatics 101, F&L Limo & Livery, Bridge Pointe Real Estate and Auction, Hillhouse Creative, AdviCoach, The Bagel Exchange, Tri-Cities Military Affairs Council, Oliver Coal Sales, Holston Valley Broadcasting, The Business Journal, VIPSeen, and Times-News.
Archive
2020
2019
2018
2017
2016
2015
2014
2013
2012
2011