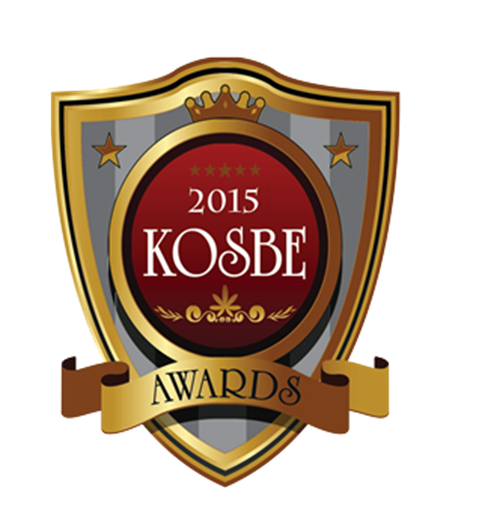 KOSBE Announces 2015 KOSBE Awards Contenders
October 29, 2015
KINGSPORT, Tenn.-Oct. 29, 2015 — The Kingsport Office of Small Business Development & Entrepreneurship (KOSBE) today announced 34 area small businesses as contenders for the 21st Annual KOSBE Awards.At a special recognition event on Thursday, December 10th, from 6 to 9 PM, at The Meadowview Marriott in Kingsport, Tennessee, the winners will be revealed.

"I congratulate all these entrepreneurs for the strength and creativity they bring to our local marketplace. Their presence and contributions have a positive ripple effect in our city that is undeniable and deserves our applause and support," says this year's awards chair,Jane Hillhouse, President of Hillhouse Graphic Design. "Few elements in a community are more powerful or valuable than small businesses. Not only are they the engines of job creation – they account for 60 to 80 percent of all U.S. jobs – but they also tend to drive innovation as well. They deserve all the encouragement and patronage that we can give them."

"This annual competition is a vehicle to sharing best practices, lessons learned and the challenges of owning and operating a small business," said KOSBE Executive Director,Aundrea Wilcox."I continue to be blown away by the thirst and enthusiasm of small businesses in our region. When they enter, they are making a statement that they refuse to sit back and just let things happen to their business. They are saying they want to lead in their industry."

The 2015 KOSBE Awards Contenders:

• Appville 101 – Marketing (Keddrain Bowen)

• Blimpie Sub Shop – Sandwhich Shop (Mack Fletcher)

• Brushstrokes n' More – Paint Your Own Pottery Studio (Kaye Ball)

• Camellia Digital Agency – Web Designer (Cam Collins)

• Can2's Car Care – Car Detailing (Kris Cantu)

• Chris Mullins Co. – Installation & Acoustics Contractor (Bryan Mullins)

• East Coast Wings & Grill – Restaurant (Robert Feathers)

• F & L Limo and Livery – Special Services Transportation (Sherri Monroe)

• Fanatics 101 – Licensed Sports Apparel (Keddrain Bowen)

• Halloween Express – Halloween/Decoration Store (Starr Beverly)

• JWP Rentals – Real Estate Rental (James Phillips)

• Kontos Creative – Graphic Design Services (Jenny Kontos)

• Law Office of Mark A. Skelton– Law Firm (Mark Skelton)

• Martin Dentistry PC – Dentist Office(Kevin Martin )

• MedFit Center – Medical Wellness (Stan Johnson)

• Monkee's of Johnson City – Ladies' boutique (Krista Wharton)

• Muse Family Chiropractic – Chiropractor (Joseph Muse)

• NET Elite Baseball – Baseball Tournament Management (Brad and Wesley Jones)

• No 7 Designs – Screen Printing (Troy Wade)

• Per Vivo Labs, Inc. – Human Thermoregulation Products (Russ Hubbard)

• Premier Pharmacy, Inc. – Compounding Full Service Pharmacy (Joe Carter)

• Prestige Aesthetics – Medical Spa (Wendy Wilgus)

• Sher Extensions — Xtreme Lashes Professional (Sherrie Bacon)

• Snap Fitness of Kingsport – 24/7 Fitness Center(Clark & Trisha Hernandez)

• Shorten My List – Professional Services (Donna Farrell)

• Subco East, Inc. – Subway Restaurant (Kenneth Vance & Mickey Baker)

• Sweet Snaps Photography – Photography (Tara Hodges)

• Tele-Optics, Inc. – TeleCommunication (Jeff Hostetler)

• Thrivent Financial – Insurance and Investments (Larry Braaten)

• TUC Technologies – Managed IT Services (Dawn Bouch)

• Turquoise Boutique – Ladies Clothing and Accessories (Keta Hawley)

• Uncorked – Small Plate, Wine/Bourbon Café (Tony Hughes)

• Vintage Timbers – Reclaimed Lumber (Jamie Shaffer)

• The Vaughn Firm – Law Firm (Kyle Vaughn)

In addition to naming the winners of the business competition, KOSBE will also announce the recipient of the small businessImpact Award and the CVB Impact Award,a new award category for an outstanding employee in the hospitality industry who has made an impact on the small business scene through referrals and/or support.

Business Award selections will be made based on customer relationship strategy, story of success overcoming adversity, community involvement, financial strength, best practices, marketing creativity and presented strategies for growth.

Tickets to the celebration event are$75 per person and must be purchased online in advance or in person at the Kingsport Chamber of Commerce, or by calling(423) 392.8811.This event has been sold out for the past five consecutive years. Seating is limited and early ticket purchases are highly recommended. All ticket sales are final and non-refundable. The public is invited to attend.

Sponsors include: AccelNow, Boehm Landscape, Inc., Branded., Camellia Digital, CenturyLink, Cumberland Marketing, Dyke's Trucking, Eastman Credit Union, F&L Limo & Livery, Phil's Dream Pit, ChamberZone, East Tennessee Eye Care, Eastman Chemical Company, Food City, Fish Window Cleaning, Hair Bender's Salon, Holston Valley Broadcasting, Hunter, Smith and Davis, Kingsport Times-News, Mickey Baker Photography, Millennium Auto Collision Repairs, NETWORKS – Sullivan Partnership, The Business Journal, Thompson Metal Services, Times Digital Group, Triten Insurance, VIP Seen Tri-Cities Magazine, AdviCoach Tri-Cities, Elite Manufacturing and, Professional Services, Hillhouse Graphic Design, Pathway Lending, Prendergast Construction Company, SunTrust Bank, TC-MAC, and The Angel Roundtable.

Event Partners include: Action Rentals, Express Signs, Flowers by CopperCreek, Lake Pointe Advertising & Awards, Pristine Springs Water, and Meadowview Marriott.

About KOSBE Awards

Inaugurated in 1994, the Annual KOSBE Awards is the longest running and most recognized small business-focused awards program in the Tri-Cities area. To learn more, please visit www.kosbeawards.org.

About KOSBE

The mission of KOSBE is to be the go-to organization in the Tri-Cities and surrounding areas for small business owners and entrepreneurs who want to start or grow their business, by acquiring or creating and developing the right tools and resources (i.e., KOSBE.org, Mobile App KOSBE 2.0®, SBDCNet®, GrowthWheel®, ProfitCents®, ReferenceUSA®)and cultivating the right partnerships (i.e., Tennessee Small Business Development Centers, Kingsport Office of Foreign Investment & Trade (KOFIT), AccelNow Northeast Tennessee Accelerator).

To learn more, please call Katie Prendergast at 423-392-8811, or visit www.kosbe.org.