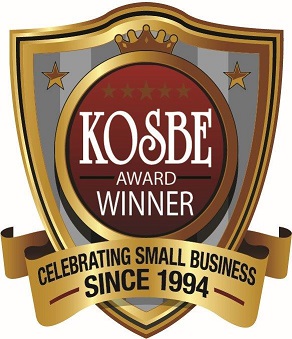 Small Business Winners Announced for the 2015 KOSBE Awards
December 15, 2015
KINGSPORT, Tenn. — The Kingsport Office of Small Business Development and Entrepreneurship (KOSBE) recognized 14 winners out of the 34 businesses competing during the 21st annual KOSBE Awards held at The Meadowview Marriott, on Thursday, December 10.

The winning businesses and the categories in which they won were:
Young Entrepreneur – JWP Rentals
Innovation – MedFit Center
New Business – East Coast Wings
Business Excellence Under 10 Employees – TUC Technologies
Commercial Industrial – Mullins Company
Woman-Owned – Brushstrokes N' More
Franchise – Subco East
Small Manufacturing – Per Vivo Labs
Ecopreneur – Vintage Timbers
Business Excellence 10+ Employees – Martin Dentistry
Veteran-Owned – Tele-Optics
Gazelle – Premier Pharmacy
IMPACT – Jeff Lane
Caped Crusader – Angela Baker

"Congratulations to all the winners and contenders who voluntarily put themselves under the microscope of our panel of judges. Our judges deliberated for many hours before reaching their decision, which is never easy — especially when everyone is putting on their best show in the panel interview," said Aundrea Wilcox, executive director of KOSBE. "Once again, they have done a fabulous job choosing the best businesses to represent our region. Stay tuned for lots of exciting changes in the coming year."

A LIVE interview was conducted by Jessica Larkin, News Anchor at ABC19 / WKPT-TV, with local entrepreneur Steve Johnson.
Several past award winners were present. John Jewett, the owner of Warranty One, was the sole award winner in 1995, and is the longest-running recognized business survivor among all KOSBE Award winners since its inception in 1994.

Sponsors include: AccelNow, Boehm Landscape, Inc., Branded., Camellia Digital, CenturyLink, Cumberland Marketing, Dyke's Trucking, Eastman Credit Union, F&L Limo & Livery, Phil's Dream Pit, ChamberZone, East Tennessee Eye Care, Eastman Chemical Company, Food City, Fish Window Cleaning, Hair Bender's Salon, Holston Valley Broadcasting, Hunter, Smith and Davis, Kingsport Times-News, Mickey Baker Photography, Millennium Auto Collision Repairs, NETWORKS – Sullivan Partnership, The Business Journal, Thompson Metal Services, Times Digital Group, Triten Insurance, VIP Seen Tri-Cities Magazine, AdviCoach Tri-Cities, Elite Manufacturing and, Professional Services, Hillhouse Graphic Design, Pathway Lending, Prendergast Construction Company, SunTrust Bank, TC-MAC, and The Angel Roundtable.

About KOSBE Awards
Inaugurated in 1994, the Annual KOSBE Awards is the longest running and most recognized small business-focused awards program in the Tri-Cities area. To learn more, please visit www.kosbeawards.org.
About KOSBE
The mission of KOSBE is to be the go-to organization in the Tri-Cities and surrounding areas for small business owners and entrepreneurs who want to start or grow their business, by acquiring or creating and developing the right tools and resources (i.e., KOSBE.org, Mobile App KOSBE 2.0®, SBDCNet®, GrowthWheel®, ProfitCents®, ReferenceUSA®) and cultivating the right partnerships (i.e., Tennessee Small Business Development Centers, Kingsport Office of Foreign Investment & Trade (KOFIT), AccelNow Northeast Tennessee Accelerator).
To learn more, please call 423-392-8811, or visit www.kosbe.org.
####